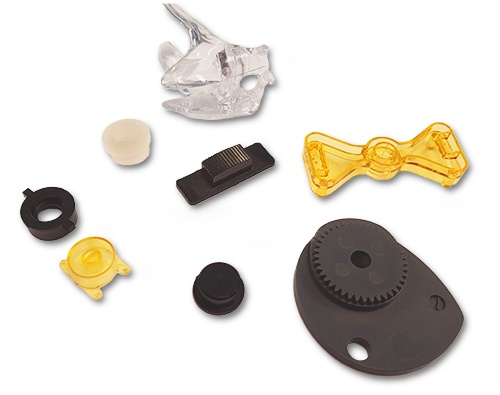 AIM Processing specializes in small part plastic injection molding. We define "small plastic parts" as roughly the size of your fingernail to the size of your hand. Injection molding is a process in which plastic resin, in pellet form, is heated and sheared until it reaches a viscous state. It is then injected under enormous pressure into a steel or aluminum mold, cooled until it hardens, and ejected. With small part injection molding, we are able to manufacture complex, small shapes in a cost-effective, repeatable process.
As a leading small plastic parts manufacturer, we work with engineering grade plastics to create custom molded plastic parts that match the requirements for a part with properties like: chemical resistance, flexural strength, durometer, and yield strength to name a few. There are so many material options, and we can help you make the right choice for your program.
Our facility in Longmont, Colorado operates 37 presses seven days a week. We have a mixture of automated, lights-out production and press-side attended operations. This model enables us to maintain high quality and low costs.
Our staff of mechanical engineers will help you design cost-effective, high-quality solutions to meet your plastic part needs. Our production team is made up of highly motivated people who have experience in plastics manufacturing and exceptional attention to detail. We pride ourselves on cultivating a work environment that fosters professional growth and very low turnover.