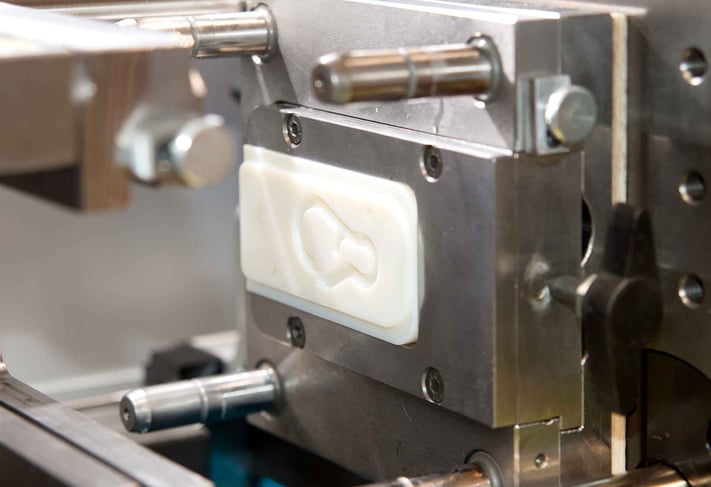 Those who are new to the custom molding industry may begin to notice that the terms "Overmolding" and "Insert Molding" are often used interchangeably, however, it is far from true that these two processes function exactly the same.
Though these processes are certainly quite similar in some ways, they each serve different functions and each provide their users with specific sets of advantages and disadvantages. Explore the ins and outs of insert molding and overmolding below to discover which manufacturing method is the most ideal option for your projects:
What Is Insert Molding?
Insert molding is most commonly used to refer to the process of placing an object into the molding tool. Examples of insert molded projects include metal inserts, cable connectors, metal structures or handles, metal stampings. Injection molding is known for its ability to provide its users with key benefits:
High Volume Capability
Insert molding is notably capable of manufacturing thousands of parts in a single day. As a result, high volume orders are easily produced with insert molding, which in turn reduces the overall production costs of the entire molding project. By eliminating lengthy processes, such as assembly, insert molding presents itself as an ideal and efficient molding strategy.
Reduced Costs
Insert molding does not simply reduce costs by eliminating assembly processes. Plastic molding materials are a light-weight, cost-effective option as opposed to metal parts. And while plastic on its own may not be as durable as an entirely metal assembly, insert molding allows the molder to insert a smaller metal insert to maximize the strength of the component while simultaneously maintaining the cost benefits of plastic molding.
What Is Overmolding?
Overmolding is most commonly used to refer to a specific type of insert molding— one involving the process of placing another molded object into the tool, except in this instance the object being inserted is one that has also been molded by the molder. This molding process requires one tool for the first part, often called a substrate, and a second tool for the overmolded/complete part.
Thus, overmolding involves two tools. In high-volume applications, such as toothbrush handles, this can take on a special form of 2-shot molding, where one specialized tool in a specialized machine can do it all automatically. While this process is more involved than standard insert molding, overmolding also provides significant benefits:
Increased Material Flexibility
Overmolding allows designers to leverage the benefits of multiple types of materials to create complex parts with different properties, as well as added visual complexity.
Ease of Adhesion
Because overmolding can combine and merge different materials together within the mold, specific bonding methods, such as glue, are not needed during this process. Not only does this reduce the costs of overmolded projects, but it also allows for more durable end-results.
New Functions
If your design requires waterproofing, overmolding may be a way to integrate an elastomeric material in lieu of a gasket or O-Ring. In this way, your one piece has both the structure and the seal that you need without the challenge of sandwiching the gasket in an assembly process.