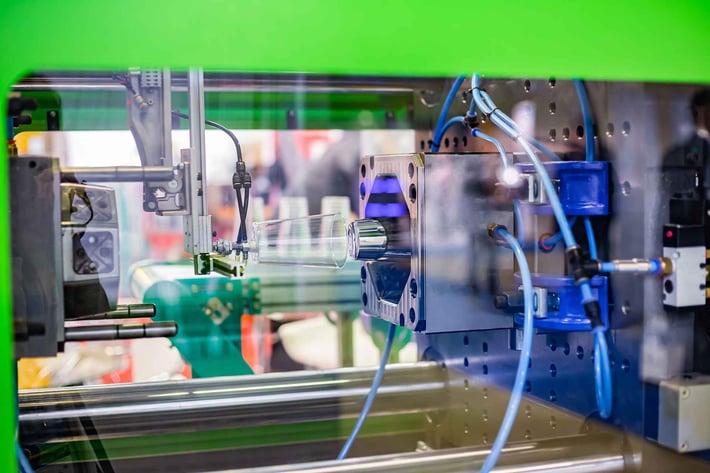 Automated production technology has become increasingly common throughout the American manufacturing sector – and the plastic injection molding service industry is no exception. New automation technology allows domestic manufacturers to be substantially more efficient and more productive, and thus more cost-competitive with their overseas counterparts.
Developments in Injection Molding Automation Technology
Automated manufacturing technology has found its way into virtually every step of the injection molding process – from product design to production to post-production finishing and handling.
Automated material handling systems for part loading/unloading help domestic manufacturers increase their efficiency and capacity without overwhelming small businesses with unsustainable labor costs or the difficulty finding labor. More specialized material handling processes can also be automated, such as part sorting, stacking, and custom component assembly.
The Advantages of Automated Injection Molding for American Manufacturers:
Lower Costs: This is probably the obvious one that people think of when they hear "automation". With good reason – it's true.
Product Consistency: Variation can undermine consistent output. If an operator is variable in his/her pace of work or operators work at different rates, the resulting product can develop cosmetic inconsistencies from the plastic experiencing different residence times in the barrel. Automation reduces or eliminates variation in the pace of work which can lead to a more consistent result and lower scrap rates.
Higher Speed: When it comes to remaining competitive in today's injection molding industry, rapid turnaround speed is imperative. Vendors who outsource their injection molding services across the country or offshore often cannot deliver the quick turnaround times necessary to give you a leg up on your competition.
Automated manufacturing equipment helps domestic manufacturers produce custom molded plastic parts in record time, drastically simplifying your supply chain.
Increased Productive Capacity: Automated injection molding technology helps American manufactures substantially increase their production capacity. At AIM, we utilize automation for 24-hour, 7-day operation of our facility, providing our customers with the enhanced speed and lean efficiency of "lights-out" manufacturing. Greater capacity enables us to be more cost-competitive with much larger international providers.
More Efficient Manufacturing: Everything from material handling to machine tending to post-manufacturing part trimming and packaging is streamlined through automation. In turn, this efficiency finds its way into every aspect of our business, enabling us to offer the rapid turnaround, high consistency, and minimum costs that our customers expect – all backed by superior American manufacturing quality.
Bringing the Latest, Most Innovative Injection Molding Technology to the American Market
Based in the Denver, Colorado area since 1993, AIM Processing is proud to be one of the nation's leading plastic injection molding companies. Utilizing the latest innovations in automated production technology along with more than three decades of hands-on experience, we offer your products unbeatable quality and a simpler, more robust supply chain.