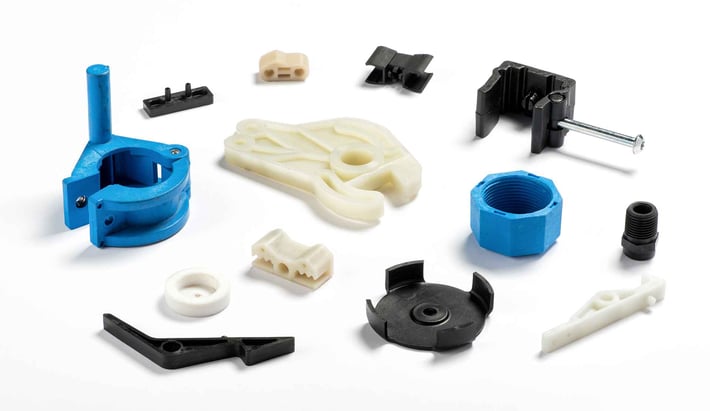 Insert molding is integral for many plastic injection molded products that require threaded connections, high-strength fasteners, or other metal components integrated straight into the plastic. While these complex part features could potentially be produced through injection molding alone, insert molding allows us to combine the increased strength and durability of metal with the flexibility of plastic molding.
Below, we take a look at some of the most common insert molded products, along with some of the advantages that metal inserts bring to the table.
Some of the Most Common Insert Molded Products:
Insert Molded Automotive Parts
Many automotive parts, including sensor housings, connectors, switches, and dashboard components, rely on insert molding to combine various materials into a single part, or to create reliable, high-strength connecting points for installation. We also commonly use insert molding to integrate complex electronic components directly into plastic automotive parts.
Insert Molding for Consumer Products
A wide range of consumer goods require insert molding to achieve the functional performance and price point goals that the vendor is looking for. For example, many handheld consumer devices like hand power tools, kitchen accessories, and items that are often opened for a battery replacement use insert molding to embed metal components directly into the plastic handle/assembly. Insert molding allows manufacturers to enhance ergonomic designs or create multi-material parts.
Complex Aerospace Components
The modern aerospace industry and flight applications take advantage of insert molding to produce extremely lightweight and durable parts. Combining specialized aerospace plastics with metal inserts is common for the production of many diverse products such as cable assemblies, structural components, and interior parts for passenger comfort/ergonomics.
Molded-in Bushings and Bearings
Plastic parts with integrated bushings or bearings are commonly produced through insert molding services. Molded bushings and bearings are common in virtually any molded plastic product with moving parts such as gears, pulleys, and sliding mechanisms – ranging from kitchen appliances to industrial tools to children's toys.
The Main Advantages of Insert Molding Services:
Threaded Inserts – Many plastic products require threaded connections for the assembly of multiple components, or to allow for mounted accessories. Nothing is more frustrating to the end user than a stripped thread that renders the product unusable. Insert molding allows us to integrate high-strength metal threads and fasteners which resist wear and deformation into virtually any plastic part.
High-Strength Fasteners and Connectors – Most conventional injection molded plastic materials are not ideal for small fasteners or connectors, particularly if the product will be disassembled and reassembled many times. Insert molding lets us seamlessly integrate high-strength metal fasteners and connectors such as dowel pins, spring clips, and metal hinged components.
Electrical Connector Integration – Insert molding is often used to encapsulate metal or plastic electrical connectors thin a plastic housing. This provides protection, insulation, and a secure attachment, making them suitable for various electronic and automotive applications.
Streamlined Assembly of Components – Threaded inserts and custom molded connectors can greatly streamline the final assembly of multi-component end products. Whether final assembly takes place on the production line or when the user opens the box at home, insert molding facilitates a better user experience and a more reliable end product.
Specializing in Custom Insert Molding and Overmolding Services
AIM Processing is proud to be one of America's leading injection molding companies offering complete insert molding services. An ISO 9001:2015 registered domestic manufacturer based in the Denver, Colorado region, our company is committed to uncompromising quality, consistency, and responsive customer service.