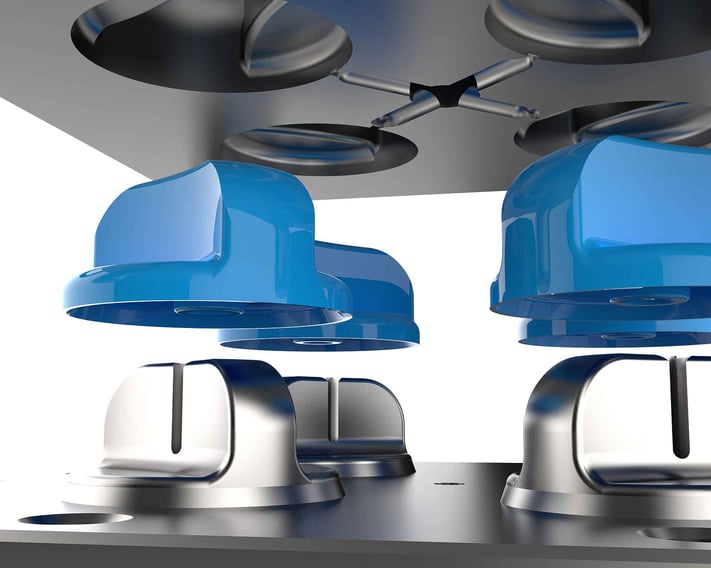 Every injection molded part project presents its own set of challenges. Injection molded parts requiring complex features are particularly difficult for ill-prepared molding companies to produce due to their need for exacting precision. Fortunately, AIM is a company that is not only fully equipped with the right equipment for such projects, but also boasts an extensive knowledge of the design tricks that ensure every complex injected molded part is completed with excellence.
Uniform Wall Thickness for Complex Injection Molded Parts
Uniform wall thickness is a crucial element to any injection molding project. Variations in wall thickness tend to create complications within the end-product, regardless of whether that injection molded part involves simple or complex features. These complications include warping caused by uneven shrinkage, and sink marks, which can look like dents in the outer surfaces.
Because complex injection molded parts often involve more contours and therefore more walls, it becomes even more critical to ensure uniformity. There are a few strategies that AIM implements to achieve the desired results. Firstly, our team works to make sure that a proper flow path is laid out so that molten plastic flows from the thicker part sections into the more narrow sections. Another strategy for uniform walls is to wait until the injection molded part is completely cooled before removing it from its mold. This may seem like an obvious step to take, but there are companies that will prioritize speed (or cycle time) over quality, resulting in warped and mediocre end-products. At AIM, we work with our customers to understand the objectives so that we can refine your design to meet the best balance of function and cost when injection molding complex parts.
Adding Text to Injection Molded Parts
A popular cosmetic addition is the addition of text onto injection molded parts. There are variations to consider when adding text during a project, such as whether to emboss or deboss the molded part. While AIM provides both options, our manufacturing strategy will change depending on which type of text the customer requires.
The process of embossing an injection molded part is relatively simple, as the custom mold can be directly tooled to incorporate the text without requiring additional post-injection molding steps. Because embossing streamlines the text-to-mold process, this is often the most cost-effective option for injection molding projects. Furthermore, the extruded text is easier to read, making it a strategic choice depending on the part's intended end-use.
Debossing, on the other hand, is still a viable option for other customers. While embossed text is highly advantageous due to the reasons mentioned above, debossing is an excellent option for projects requiring a highly polished finish. Because debossing is more difficult to incorporate into the original mold, however, AIM utilizes etching lasers to reduce the time required to turnaround molding orders.
Finally, in cases where the text may change, we can use removable blocks of the tool to account for the different options. One popular application would be when a part is used on a few different models of finished product.
Overmolding for Injection Molded Parts
Overmolding can be used as a manufacturing strategy for complex projects, as it can improve part performance and cosmetics. In addition, molding plastic over another plastic shape, whether of the same or different material, complex one-piece parts can result. If your desired part contains features that can't be molded in combination, we have strategies to break the problem into achievable, moldable stages.
Using this technique, AIM has already produced a wide variety of overmolded parts for customers across countless industries. Our injection molded and overmolded products have included filters, electronic circuits and connectors, elastomeric grips or seals, and more! Discover what highly experienced injection molders can do for you— contact the AIM team today.