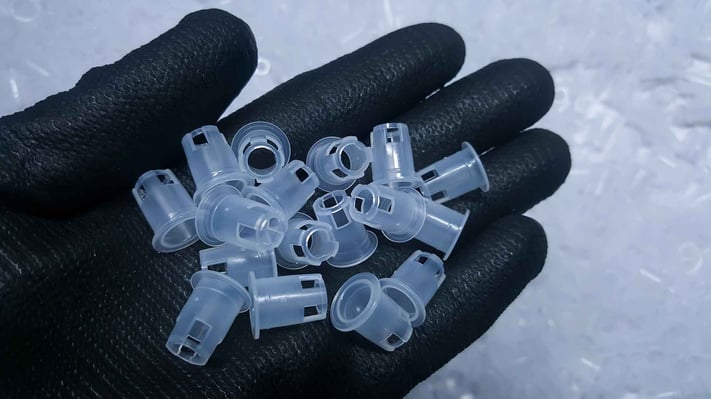 Injection molding services are an efficient, reliable, and cost-effective method to produce small plastic parts for a myriad of applications. From handheld consumer electronics and food/beverage utensils to state-of-the-art medical devices, plastic injection molding is a crucial capability throughout today's manufacturing world.
Utilizing our specialized small part injection molding services, AIM Processing is able to manufacture small shapes and complex component geometries through an economical and highly repeatable process. This allows us to meet the unique needs of customers across numerous consumer, commercial, and industrial applications.
What Is Small Part Injection Molding?
There is no definitive rule on what is considered a "small part" in plastic injection molding. However, small parts are generally those which can fit into the palm of one's hand – though not as small as "micro components" which tend to be even smaller than a pencil eraser.
Both micro and small injection molded parts are opposed to "large part" injection molding – such as automotive body parts and bumpers, architectural panels, complete electronic enclosures, and various industrial plastic products.
The Advantages of Injection Molding for Small Part Manufacturing:
An efficient manufacturing solution for both small batches and high-volumes of plastic components – especially compared to 3D printing and CNC machining alternatives.
An easily automated manufacturing process to minimize costs while maximizing production speed and capacity.
A highly accurate and highly repeatable process capable of producing precision plastic components and complex/close-tolerance geometries.
Highly flexible design capabilities to produce an extremely diverse range of product types and configurations.
Common Injection Molded Small Parts and Custom Plastic Components:
Plastic Snap Fittings
Snap fittings are featured on a wide range of today's plastic products – from consumer devices and furnishings to medical tools and industrial equipment. In fact, virtually any plastic product consisting of numerous fitted components likely uses snap fittings to allow for easy assembly and disassembly.
Snap fittings must be highly durable, solid and secure yet flexible. Injection molding is the perfect manufacturing solution to reliably produce small plastic snap fittings with complex shapes and precision tolerances.
Plastic Caps and Living Hinges
Plastic caps (both press-fit and threaded) are often injection molded into custom shapes, sizes, and designs for unique packaging and/or branding purposes. These products commonly include beverage bottle caps, food containers, chemical storage, and pharmaceutical products.
Additionally, caps for various liquids and powders often feature a living hinge – a flexible plastic hinge that allows users to open the bottle without completely removing the cap. While relatively simple in design, living hinges require a precise injection molding process to ensure durability combined with the perfect balance of flexibility.
Threaded Couplings and Small Threaded Components
Injection molding services are commonly used to produce small threaded parts. Both internal and external threading requires a high degree of manufacturing accuracy and repeatability – even a tiny error in tolerances can render the threaded component incompatible.
Injection molded threaded parts include bottle caps, various storage containers, threaded joints, couplings, and inserts, as well as a wide range of plastic consumer products which require end-user assembly.
Custom Injection Molding Services for Small Plastic Parts
AIM Processing provides full-service injection molding capabilities for the manufacturing of small plastic parts. Our extensive experience ranges from design and prototyping for custom small parts, to low-volume and high-volume production runs. As an ISO 9001:2015 registered American manufacturer, our company is committed to delivering superior quality and consistency through the art of injection molding.