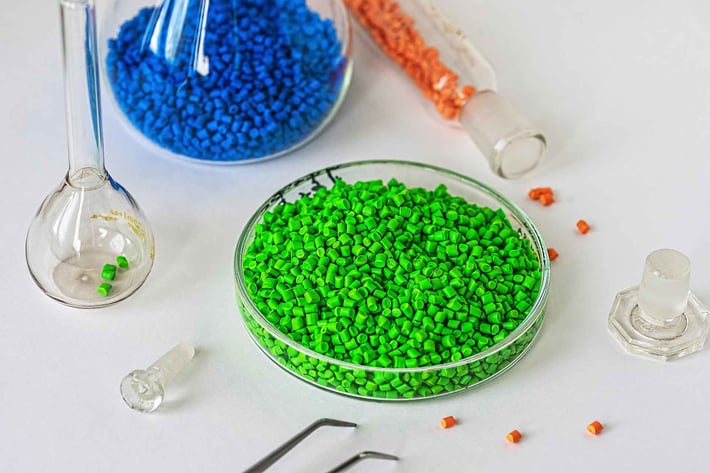 For at least the past decade, plastics have often been considered negatively in discussions concerning sustainability and eco-friendliness. But most of this is tied to single-use plastics and how they are handled after usage. Looking further upstream to plastic manufacturing, the reality may be more eco-friendly than one would think. The modern injection molding sector has become more and more concerned with sustainability and environmental friendliness. From the plastic materials that make up the products to the production equipment that molds them, along with all of the complex logistics behind shipping and supply chain management – today's industry demands better sustainability at every turn.
Rising to that challenge, experienced American injection molding companies like AIM Processing have increasingly adopted new green technologies and eco-friendly manufacturing practices. Moreover, US-based contract manufacturers are uniquely positioned to respond to this ongoing need for a leaner, more streamlined supply chain.
Below, we explore some of the technological innovations and other factors which have helped us achieve our sustainability goals and minimize the carbon footprint of all our custom injection molded products.
Sustainability Initiatives: How the Industry Is Striving to Minimize Environmental Impact
Innovation in Materials Science
The industry has been working hard to engineer new injection molding materials which are more eco-friendly and sustainable – in some cases completely renewable. For example, bio-plastics such as PLA and PHA are derived from vegetable oils, sugar cane, and other renewable/biodegradable sources rather than petroleum-based oils.
Simultaneously, conventional plastics are produced by increasingly eco-friendly means. Furthermore, the strength/longevity of the materials, and thus the quality of the finished molded products, is higher than ever before due to innovation in materials science. That means the end products perform better, last longer, and ultimately reduce the amount of waste going to the landfill.
More Recycled Materials
Many material manufacturers have new lines of materials with varying levels of post-consumer recycled content. Yet, as presented to the injection molder, the raw material behaves and performs the same. This reduces the need for new resin production, minimizing the carbon footprint at its source.
Less Waste in Manufacturing
When looking inside the walls at a plastic injection molding facility, you might be surprised to find out how efficient it can be. Molds designed with hot runner systems may eliminate the runner, which is the scrap piece of plastic produced as plastic leaves the machine and before it enters the part.
For those parts that still require a cold runner, use of press-side automation and press-side grinding can trim, grind, and re-feed that scrap runner right back into the process without any handling. Many materials maintain virtually all of their mechanical and electrical properties with this method.
In a recent run for one of our seasonal customers, we purchased over 6000 lbs of plastic across 4 different grades and 18 different parts. By using the re-feed method described above, we wasted less than 10 lbs of plastic which is less than a quarter of what a 4-person household generates in a week!
Energy-Efficient Injection Molding Processes
Improved machine efficiency is another sustainability initiative undertaken throughout the injection molding sector. Compared to the production equipment of only a couple decades ago, state-of-the-art injection molding machines today often see reduced energy consumption by as much as 50 percent. We now have numerous different types of highly efficient machines at our disposal – including all-electric molding machines – to further optimize the process for each unique project.
A Well-Vetted, Reliable Supplier Network
Collaboration with material suppliers and secondary service providers ensures the sourcing of sustainable materials and responsible practices within our customers' supply chains. We collaborate with some of the nation's most highly qualified injection material specialists and toolmakers to ensure a steady procurement of quality materials, as well as precision-performing molds and tooling. This helps AIM achieve the high quality standards our company is renowned for while molding every single product as sustainably as possible.
Leaner, Cleaner, More Reliable American Manufacturing Services
There's a greater industry trend toward onshoring/reshoring manufacturing services domestically. Experienced American injection molding companies like AIM can often provide an inherently leaner production plan, trimming out the sprawl and inefficiency of offshoring for a more streamlined and sustainable supply chain.
Working with an American injection molding company like AIM will save substantial environmental costs in transportation. Our highly efficient operation and relatively central location provides us with regional resources to help us streamline all shipping and logistics. To put it into perspective, over 90% of the continental US can receive ground shipments from our facility within 1 to 3 business days – much quicker, more efficient, and less environmentally costly than your products taking a trip overseas.
The Goal: Greener Molded Plastics and a Reduced Carbon Footprint
As one of Colorado's premier injection molding companies, AIM Processing is committed to providing green, clean, and sustainable plastic molding solutions. We strive to minimize our carbon footprint while offering maximum production efficiency to customers throughout the Denver region and beyond. Simultaneously, our company is committed to improving environmental friendliness for our local community and the greater global manufacturing sector.