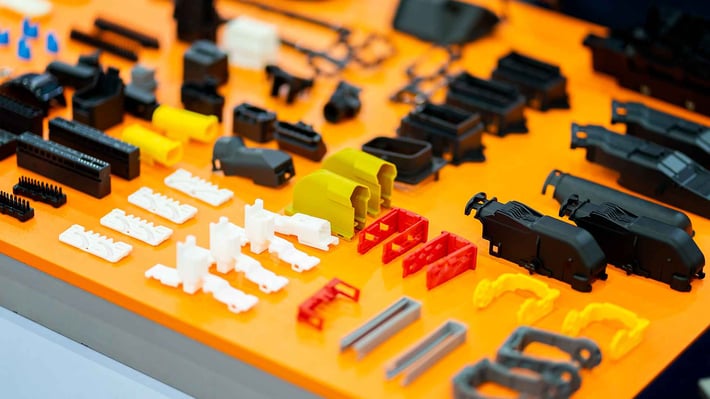 Small part injection molding is an efficient and economical manufacturing method used across many different industries and product categories.
When compared to traditional casting methods or 3D printing, plastic injection molding is quicker to set up and easier to scale. Furthermore, the injection molding process is highly automatable, making it ideal for today's domestic customers in search of a more flexible and reliable supply chain solution.
Manufacturing Quality Custom Plastic Parts Quickly and Efficiently
Plastic injection molding is an extremely versatile manufacturing service. It provides a high degree of design flexibility, and it streamlines the process between designing your products and volume-based manufacturing.
The Capability to Manufacture Complex Plastic Small Parts
Injection molding produces simple plastic parts quite efficiently by injecting molten plastic into a custom tool/mold, waiting for it to cool, then repeating the cycle over again. A major advantage over other, less consistent molding methods is the capability to reliably produce complex plastic small parts.
Injection molding services are both precise and highly repeatable. This makes it a useful manufacturing method for today's complex plastic medical parts, electronics devices, automotive components, and various other uniquely specialized industries.
Once extra effort is taken to develop a robust tool and a methodical manufacturing process, the parts can offer exceptional levels of dimensional consistency.
Injection Molding Is Ideal for Automated Manufacturing Applications
Virtually the entire injection molding process can be automated. Automation achieves numerous advantages: it can lower your total production costs, allow for higher capacity, and/or provide an efficient means of just-in-time (JIT) manufacturing. These qualities are ideal for small part projects that demand minimum inventory commitments.
Modern injection molding machines contain interfaces for robots and post-processing sorting. Further, machines have safeguards that enable them to run unattended or "lights out" which increases overall capacity.
A Suitable Manufacturing Process for Prototyping to Full-Scale Production
Injection molding is one of the easiest and most efficient ways to manufacture small plastic parts while providing you with the design freedom to easily further develop your products.
Cycle times vary upon the material and geometry, but are often 10 - 60 seconds. The rate of production can multiply further if the tool has the ability to make more than one part at a time through multiple cavities. Output per hour can be very high, which reduces cost.
The Injection Molding Specialist for Manufacturing Small Parts and Complex Components
AIM Processing specializes in custom plastic injection molding services for a variety of small parts applications. Our company is an ISO 9001:2015 registered American manufacturer offering the quality, consistency, and precision required to accommodate today's most complex plastic part manufacturing projects.