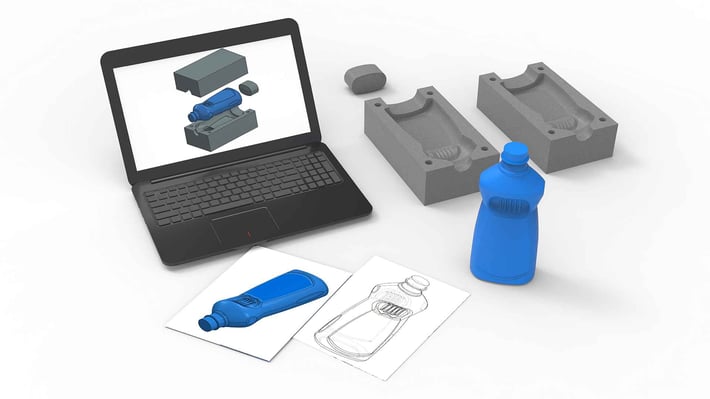 In today's highly competitive and diverse market of molded plastics, ensuring success goes beyond the basic functionality and aesthetics of the products. While those aspects remain crucial, successful projects are backed up by a further understanding of their respective markets, their end users, and the unique needs they bring to the table.

This is where user-centered design (UCD) plays a pivotal role in plastic injection molding, considering the end-user experience first and foremost throughout product development. When combined with the precision and efficiency of the injection molding process, UCD can result in custom products that meet or exceed user expectations while also being as cost-effective and sustainable as possible.
However, because injection molds, tooling, and setup can be quite the costly investment, it's important to nail down all aspects of UCD before moving your project into full-scale production. That's where an experienced partner like AIM Processing comes in, backed by more than 30 years of rolling out successful molded plastics products in numerous different markets.
An Overview of User-Centered Design for Molded Plastics
User-centered design (UCD) is a practical approach to developing custom molded products. Rather than being concerned solely with technical specifications, UCD focuses on the specific needs and preferences of end users, allowing us to build better products for each respective niche.
Successful implementation of UCD goes beyond knowledge and experience in plastic injection molding. It requires a deeper and more holistic understanding of how the process fits into the greater manufacturing industry. Most importantly, it demands real-world experience in how to best serve the industry's numerous unique markets which have many different, highly diverse product requirements.
Considerations for User-Centered Design Specific to Injection Molding:
Design for Manufacturability (DFM) and Performance Optimization
UCD helps us create injection molded products that not only look good on paper, but also function effectively in the real world. As anyone with experience in the industry knows, intended designs and specifications don't always translate into actual functionality and performance. Applying UCD along with design for manufacturability (DFM) ensures that our end products actually meet all user expectations while also being optimized for both cost and quality.
Plastic Material Selection
UCD can also help guide our material selection process. In addition to choosing the optimum plastic in terms of cost and durability, we consider user preferences for texture, feel, and other ergonomic factors, as well as product aesthetics like color and sheen. Injection molding allows for a variety of materials, and choosing the right one is crucial for meeting user expectations and performing in the device's operating environment.
Overmolding and Insert Molding for Added Product Features
Injection molding allows for intricate designs, especially when combined with insert molding and overmolding, which are particularly beneficial for products with complex ergonomic features. Overmolding plastic on top of another plastic shape, whether of the same or different material, allows us to create more complex one-piece parts that can result in better ergonomics and a better user experience. If the desired part design entails features that can't be molded, such as metal threaded connections or baseplates, we can perform insert molding to combine multiple materials and complex components.
Uniform Wall Thickness to Ensure Long-Term Durability
Designing products for end use requires careful consideration of long-term durability. In that regard, achieving uniform wall thickness is a crucial element to any injection molding project. Variations in wall thickness tend to create complications within the end-product, regardless of whether that injection molded part involves simple or complex features. These complications include warping caused by uneven shrinkage, and sink marks, which can look like dents in the outer surfaces. Embracing UCD requires that we achieve all of the external product design features while also ensuring the most durable internal structure possible.
Custom Injection Molded Parts Designed to Exceed Customer Expectations
AIM Processing specializes in the manufacturing of quality injection molded products including complex components and assemblies. We strive to ensure the success of every project through the application of user-centric design and other practical engineering considerations. Founded in 1993, our company is an experienced ISO 9001:2015 registered American manufacturer committed to superior quality, responsiveness, and customer service for every project.